Selling freshly baked rice flour bread
The secret to Tawawa Bread Workshop's
rice flour bread's delicious taste
The rice flour which we use for the dough is especially made from rice cultivated by farmers under JA Kyoto.
Our facility only mills the amount of rice flour necessary at any given time so you can always enjoy the best taste possible.

Try a taste of our moist and springy rice flour bread that is only made possible through what is provided by nature!
*Freshly ground rice flour produced under JA Kyoto is used for all our bread.
Rice Flour Bread

Lineup

Here you can see some of the products we offer.

*Products that we sell change depending on the season.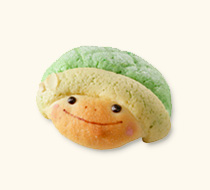 Kamemaru Bread
Rice flour bread designed to look like Kameoka city's mascot, Kamemaru-kun. Since each one is designed by hand, they come a variety of expressions. Available in sweet red bean paste filling or cream filling.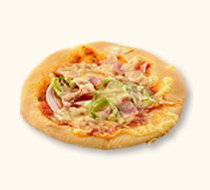 Veggie Pizza
Pizza made using rice flour dough topped with plenty of vegetables.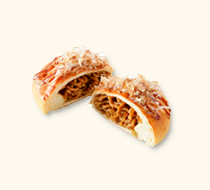 Yakisoba Bread
Rice flour bread packed with sauce-flavored yakisoba. A long-standing popular item to this day.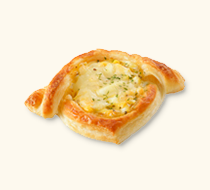 Egg Danish
A danish with a fluffy and flaky texture and locally produced eggs. Perfect for breakfast and lunch!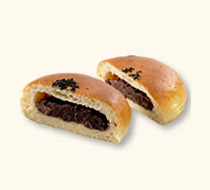 Sweet Red Bean Paste Bread
Specially selected sweet red bean paste and the moist texture of rice flour bread interwoven together in perfect harmony.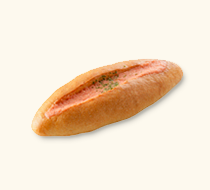 Seasoned Cod Roe Bread
Baked French bread with a moist and springy texture topped with seasoned cod roe which gives it its mild salty flavor.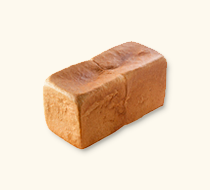 Rice Flour Bread
Bread with a fluffy and springy texture made using rice flour. Toasting it gives it an even fluffier texture!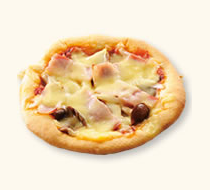 Mushroom Pizza
A pizza with a tomato base and Hatakeshimeji mushrooms produced in Kyotanba Can be enjoyed as is or warmed up!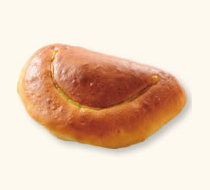 Macha Cream Bread
Filled with a cream that possesses a mild macha flavor. This cream bread allows you to enjoy the taste of Japan.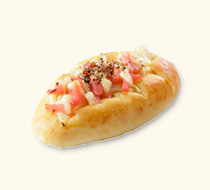 Ham and Onion
Ham and onion embedded in rice flour dough with a moist and springy texture, topped with mayonnaise and black pepper.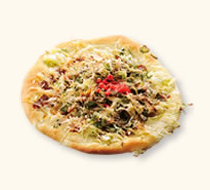 Okonomiyaki Bread
Made using locally produced Kujo green onions, and it looks like and even tastes like okonomiyaki.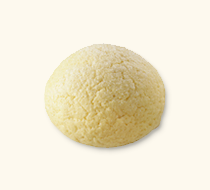 Melon Bread
Homemade biscuit dough placed on a moist and chewy rice flour bread and baked.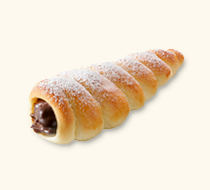 Chocolate Cornet
A cornet made using a springy dough made from rice flour. Loaded with chocolate cream.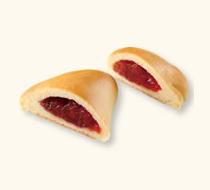 Strawberry Jam Bread
A standard jam bread filled with strawberry jam that gives it a refreshing tart flavor.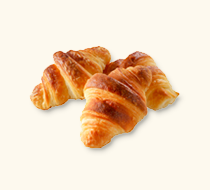 Croissant
A perfect fluffy texture created from just the right amount of sweetness and rice flour. Possesses a unique taste different from other croissants.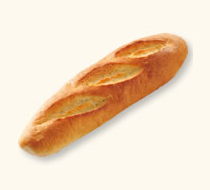 French Bread
You can of course enjoy this toasted, with ham and vegetables or even with rusk.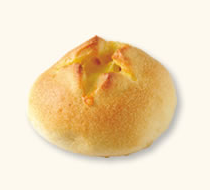 Cheese Bread
Bread with the savory flavor of cheese that will leave you wanting more. Why not try it with some wine?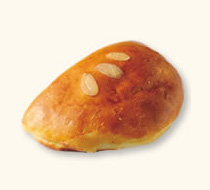 Cream Bread
A springy dough generously filled with a creamy custard filling, loved by kids everywhere.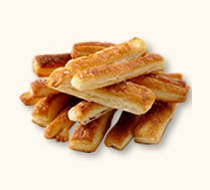 Sugar Sticks
Danish dough sprinkled with granulated sugar and baked. You'll be tempted to pick it up with your fingers.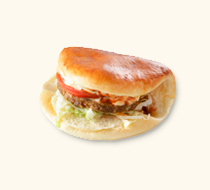 Kameoka Beef Burger
Uses a juicy Kameoka beef patty. A luxurious product sandwiched in a moist rice flour bun.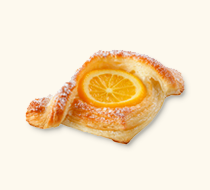 Fruit Danish
Danish dough topped with custard cream and an orange slice. A refreshing sweet yet sour flavor.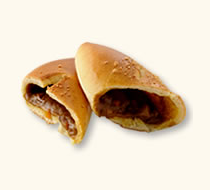 Curry Bread
Baked curry bread that hasn't been fried, making it a very healthy option.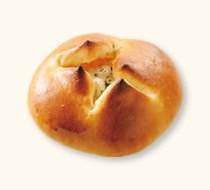 Tuna and Potato
A moist and chewy bread loaded with potato, tuna and mayonnaise, making a good combination.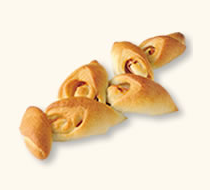 Bacon Epi
The delicious smell of bacon will make your mouth water. Baked to a perfect hardness, making it easy to enjoy.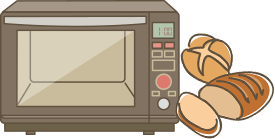 How to better enjoy your bread
Given that rice flour bread tends to get a little hard the following day, please heat the bread using a microwave. This way you can enjoy it as if it was fresh from the oven.
Store Information
Name
Tawawa Bread Workshop
Telephone Number
0771-23-8318
Address
Kamimata-30 nojo, Shinocho, Kameoka-shi. KYOTO
(next to JA Kyoto Shino Branch)[Google maps]
Holidays
Every Wednesday, New Year's 


*No holidays in July and August

Store Hours
10:00 AM to 5:00PM
Parking Lot
120 spaces
Public Access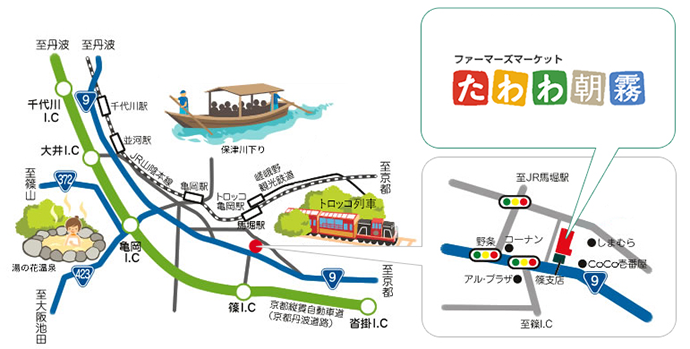 Our customers
coming via car
Immediately from the Kyoto-Jukan Expressway Shino Interchange Approx. 50 mins. from Osaka Ikeda
Approx. 30 mins. from Kyoto city
Approx. 20 mins. from Yunohana Hot Springs
Our customers
coming via bus
From JR Kameoka Station
Keihan Kyoto Kotsu Bus 10 mins.
Get off at "Shino"
Our customers
coming on foot
15 mins. from JR Umahori Station